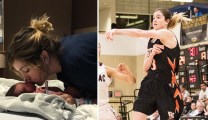 When she's not making plays on the basketball court for the Ventura College Pirates, 19-year-old Katie Campbell is balancing her school work with taking care of her 6-month-old baby and holding down a job.
Photo Credit: Campbell family/Ventura College
This story uses functionality that may not work in our app. Click here to open the story in your web browser.