"I'm really not worried about the spot," the Korean-born Ryu said on Thursday through his interpreter, Bryan Lee. "I'm just concerned about being part of the starting rotation. It's really not up to me. I'm just taking it day by day and doing what I can do on my end."
On Ryu's end, it's been awhile since he's been out on the mound throwing without some sort of discomfort, as he did for three innings on Thursday in a 4-0 loss to the Cubs at Camelback Ranch.
Ryu allowed one run on three hits with a walk and four strikeouts, the run scoring in the first inning on an Albert Almora Jr. double followed by Matt Szczur's single. Ryu was often behind in the count and said he had some problems locating his pitches. That will all come with repetition, he knows.
And Ryu thinks he'll be ready by Opening Day. He has two years remaining on the six-year, $36 million free-agent contract he signed in 2012, but he can opt out after this season.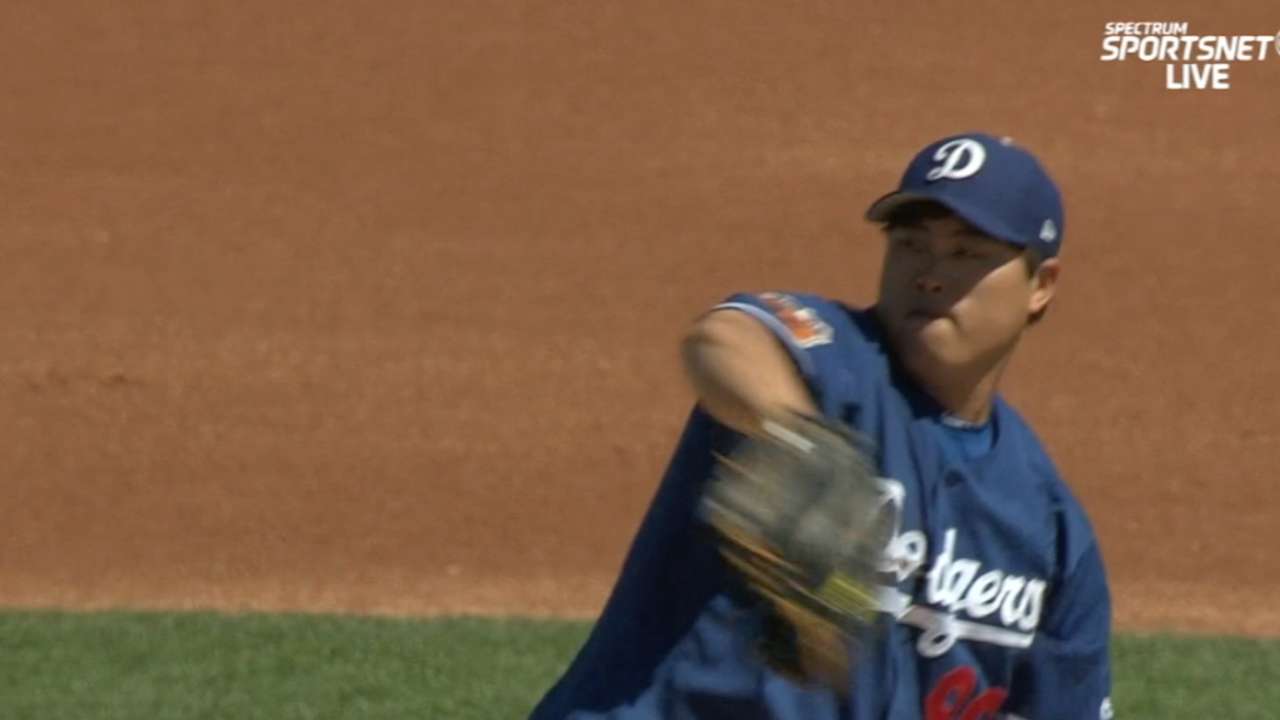 "I'm healthy right now, and that's the only thing that matters," Ryu said. "You have to be healthy to talk about location. Obviously, being healthy is the priority.
"The last two years have been tough for me. But I'm here right now with my teammates building up my stamina, building up my pitch counts, my innings. I'm going to pitch two or three more games. I feel like I'll be ready by then."
Last year, Ryu rehabbed the shoulder through the spring and the first three months of the regular season. He returned on July 7 at Dodger Stadium against the Padres and lasted 4 2/3 innings, allowing eight hits and six runs. Ryu didn't pitch again in 2016.
Ryu only made his second start of the spring Thursday. His debut against the Angels on March 11 lasted two innings. Ryu's overall stats now total five innings, one run, four hits, a walk and six strikeouts. It's not a bad start. But he's going to have to quickly build on Thursday's performance.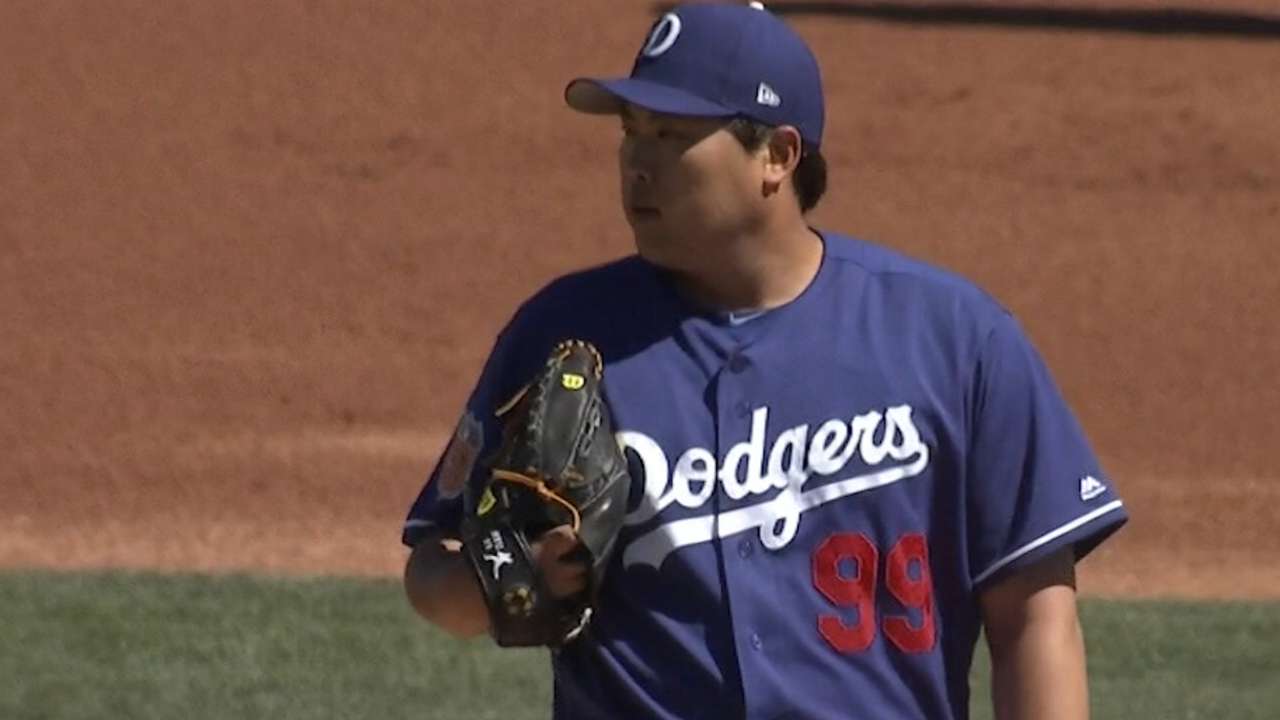 "He's up to three innings right now," second-year manager Dave Roberts said. "He's optimistic. He feels good. And so, the next time he gets out there, it'll be four innings. Hopefully he continues to progress and doesn't have any setbacks. We'll see where we are when we break."
But it begs two questions: Will Ryu really be ready when the Dodgers must set their 25-man roster for Opening Day on April 3 against the Padres at Dodger Stadium? And even if he is, is there a spot for him in the rotation?
Unlike last spring, when Brett Anderson had back surgery before throwing a live pitch in a game, the Dodgers' starters this year have been strong and healthy. Clayton Kershaw, Kenta Maeda and Rich Hill are locks for the first three spots. Alex Wood and Brandon McCarthy seem to have overcome their own elbow injuries, and they are sailing toward the last two slots.
That leaves Julio Urias, Scott Kazmir and Ryu out in the cold. Newcomer Brandon Morrow is tagged for the bullpen, Roberts said.
It never hurts to have enough starting pitching, as the Dodgers learned last season. Maeda was the only pitcher who made every one of his 32 starts, and he was gassed by the playoffs.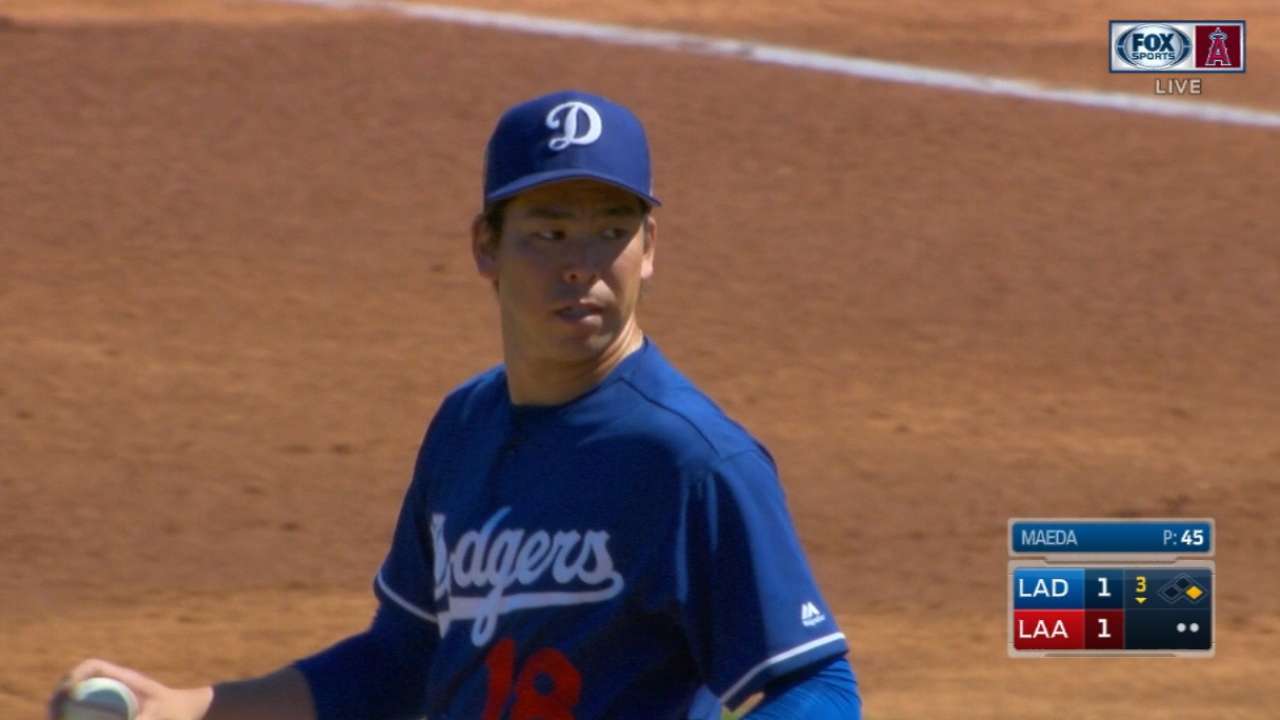 Kershaw, Hill, McCarthy, Wood, Ryu and Kazmir all missed considerable periods of time. Morrow made only 18 relief appearances last season for the Padres after suffering a right shoulder injury early in 2015 and having subsequent surgery. He made five starts in San Diego that April and was very effective, but he didn't pitch again in '15. Kazmir is suffering through a spring of diminished velocity and is not ready yet, either.
Roberts knows that he will need them all before the season is through, as the Dodgers attempt to win the National League West for the fifth consecutive season and the World Series for the first time since 1988. They haven't been back to the Fall Classic since that title run.
"We do have the depth, and most likely we're going to need them all," Roberts said. "Whether it's in the beginning of the season, the middle or the end, they're all going to help us. We still must evaluate what's best for us long term and short term. That's why every day we're continuing to have conversations."
Ryu is now making himself a big part of those conversations.
Barry M. Bloom is a national reporter for MLB.com and writes an MLBlog, Boomskie on Baseball. Follow @boomskie on Twitter. This story was not subject to the approval of Major League Baseball or its clubs.