Without saying so, the decisions confirm that 20-year-old Julio Urias will remain at extended spring training when the club leaves for California on Wednesday. Roberts earlier said that Scott Kazmir would begin the season on the disabled list.
Ryu allowed two homers and three runs in five innings to the White Sox, with four strikeouts, on Monday, and Roberts said the left-hander had proved he was recovered from surgeries on his shoulder and elbow the past two years. Brought along slowly early in camp, Ryu has a 2.57 ERA in four Cactus League starts, with 12 strikeouts and one walk in 14 innings.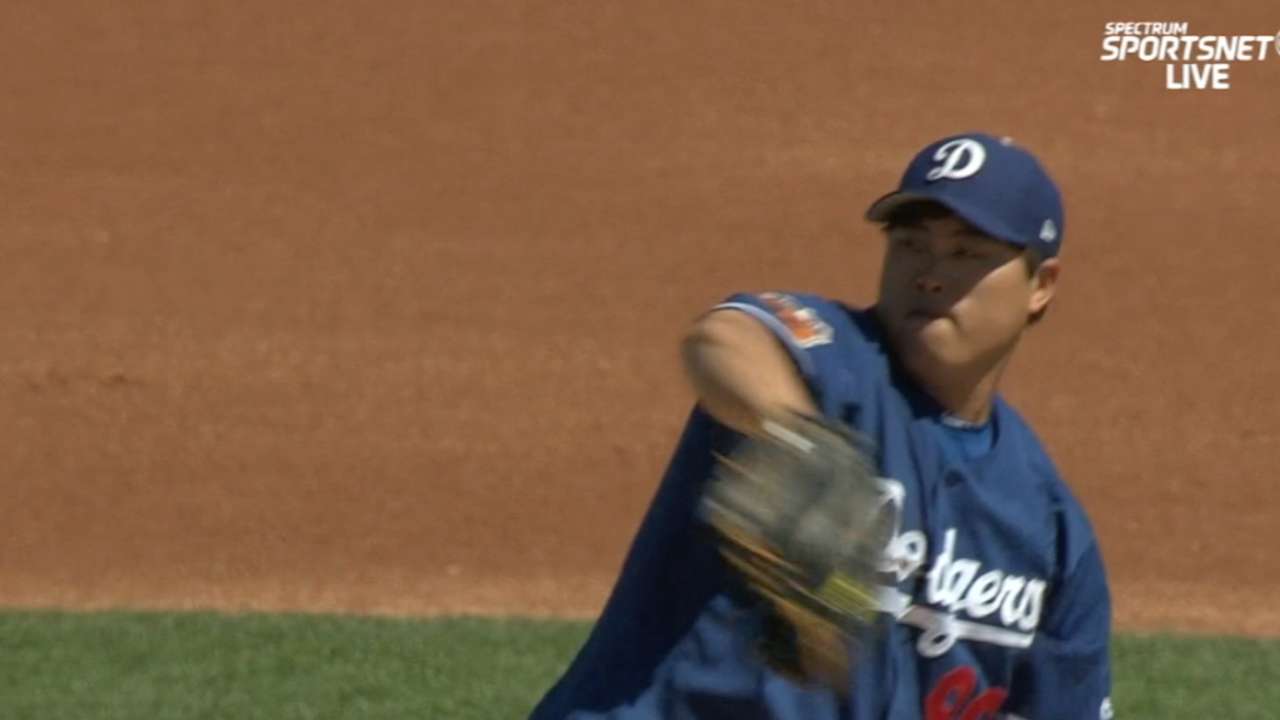 "I think Ryu is throwing well, he's built up enough and we feel confident enough that he'll be one of the five," Roberts said. "He's given us no reason to not be [in the rotation]. We feel that a healthy Hyun-Jin is a good thing. We expect him to be one of our five.
"Coming in, we didn't know what to expect. We expected Kaz to be fine, but it's just kind of gone the other way. But Ryu kept plugging away, showing he's healthy, making starts. It just gives us the confidence that he can give us quality starts when he's out there. Every time he takes the mound, he responds and recovers well."
Ryu said he was satisfied with his spring progress.
"From how I feel right now, I'm definitely confident I can pitch every five days for this team," said Ryu. "I've always been a starting pitcher, it definitely feels good doing what I'm expecting to do."
Roberts said there will "be ways" to rest Ryu in the early weeks of the season, be it limiting his innings or using a day off to skip a start.
Ryu, McCarthy, Wood and Kazmir all came into camp having had their 2016 seasons derailed by injuries. All but Kazmir have had solid springs. Roberts said he will watch Wood start on Tuesday at Goodyear against the Reds, while Urias pitches in the other half of split-squad action against the Padres at Camelback Ranch-Glendale.
As for Urias, management has hinted at leaving him out of the season-opening starting rotation as part of its strategy to protect his arm early in the season so he can pitch through September and beyond.
Ken Gurnick has covered the Dodgers for MLB.com since 2001. This story was not subject to the approval of Major League Baseball or its clubs.