"It was a patch of old grass. Really, that's what it was," said Jose Huizar, a Los Angeles city councilman representing the city's 14th district. "You look at it now with bright green and a nice little field, this is the type of stuff that makes a difference. … We call them little improvements, but they send a strong message to the young people here."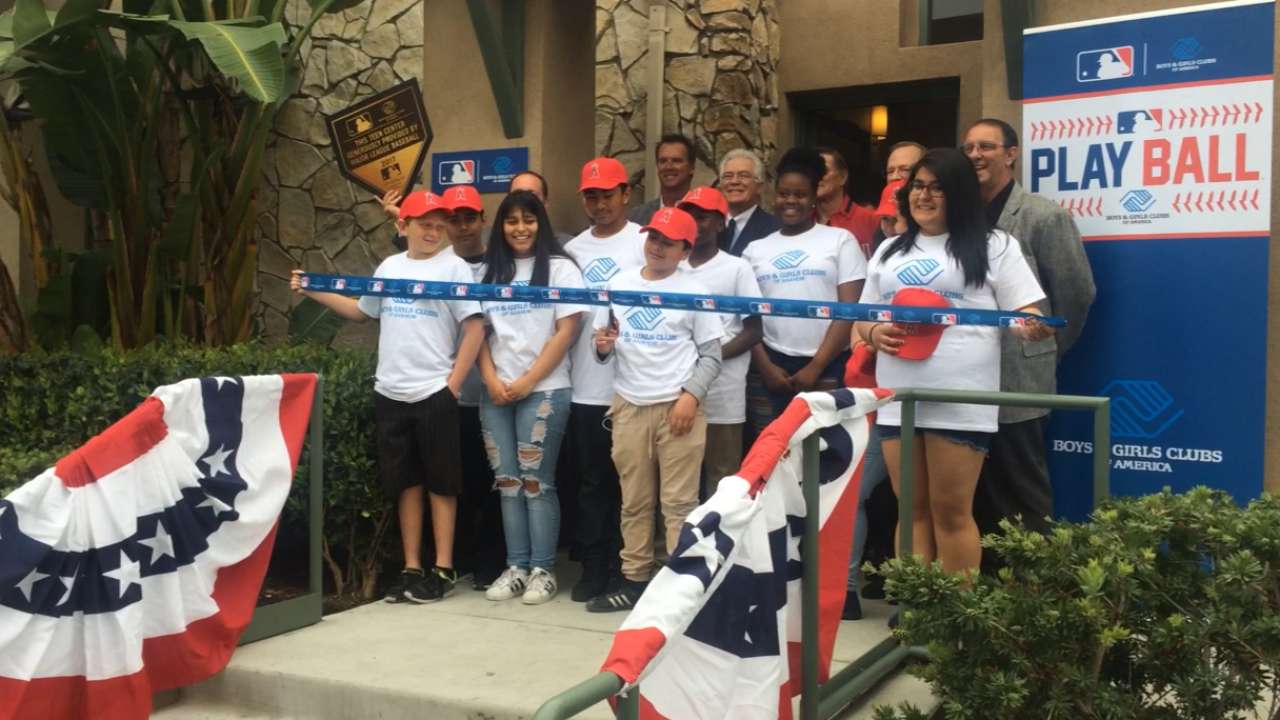 The renovations included a new backstop, fencing, scoreboard, signage and laser grading in the infield and outfield. The outfield received new sod, new seed was planted outside of the playing areas, and the foul poles, benches, bases and pitching rubber were all improved.
"The work that our 30 clubs, the Dodgers made the top of the list, do in their communities day in and day out is really fantastic," Manfred said. "The impact on the community can not be overstated.
"I just think it's a sign of Major League Baseball's commitment to having the next generation be as excited about our great game as the last generation is."
Mr. Manfred on how much of an asset the @Dodgers have been for #PlayBall pic.twitter.com/i9E9ugsbFr

— Play Ball (@PlayBall) March 21, 2017
Two former Dodgers players — Derrel Thomas, a 15-year big league veteran who played in Los Angeles from 1979-83, and Dennis Powell, a former pitcher who began his career in L.A. in 1985-86 — were also in attendance, interacting with the wide-eyed young athletes who participated in a skills clinic after the ceremony.
"Kids may not know our names, but they know the brand of the Dodgers, they know MLB baseball," Powell said. "If we can get their attention and just utilize that to just kind of put a little hook in them and just lead them down the right path, it keeps them out of the street, keeps them doing positive things."
Tuesday afternoon's event was done in conjunction with two other events aimed at giving back to Los Angeles-area youth. The Dodgers and MLB hosted a Play Ball event in downtown L.A.'s Grant Park on Monday afternoon, and earlier Tuesday, Manfred, Angels chairman Dennis Kuhl and a number of former MLB All-Stars were in Anaheim to unveil renovations at the Boys & Girls Clubs' JMAC Teen Center.
Thomas, who grew up in Los Angeles, said it can often be difficult for young athletes, especially those in underprivileged communities, to find places to play. Efforts like the new Dodgers Dreamfield in this East L.A. neighborhood provide safe places for youth to discover the game.
"The Dodgers have always been a community-oriented organization and decided they wanted to do something for some of these older facilities and bring them back," Thomas said. "Some of the facilities I used to play on have been refurbished, and it's really a joy to see the community is starting to rally around it."
The two projects celebrated in Anaheim and Los Angeles on Tuesday are part of a $2 million commitment from MLB to renovate parts of one Boys & Girls Club, with an emphasis on teen centers and playing fields, in each big league market by 2020.
"We love our Dodgers very much, and it's so great to see that love being given back to the community," Huizar said. "Places like this, we don't often get to see baseball players out here, and it's good to see the Dodgers Blue out here in the community where it matters."
Chad Thornburg is a reporter for MLB.com based in Los Angeles. This story was not subject to the approval of Major League Baseball or its clubs.