"In talking to the training staff, he is more on the aggressive side, which is no surprise to any of us," Roberts said. "We are trying to temper that a little bit."
The Dodgers want to be cautious with Kershaw as he nurses the injury. There isn't a definite timetable for when he will start throwing again, but Roberts said that it will hopefully be soon.
"I think the good thing is that he feels that he can physically do more," Roberts said.
Kershaw, who is 15-2 with a 2.04 ERA, is joined by first baseman Adrian Gonzalez, outfielder Andre Ethier and righty Brandon McCarthy as players who could return in the next month or so.
Gonzalez and Ethier are close to returning from their respective herniated disk injuries. Gonzalez has been sidelined since June 12 and is starting a rehab assignment with Triple-A Oklahoma City. He is slated to play a couple of games with Oklahoma City this weekend.
Ethier is expected to play in simulated game action in the next couple of days. He has been sidelined since Spring Training.
"He is a tick behind Adrian, and if he can get through that, he will be on a rehab assignment sometime soon," Roberts said.
As for McCarthy, Roberts said that there is no timetable for his return from a blister injury. McCarthy is working on some mechanical issues that have caused a minor setback. He owns a 3.84 ERA in 16 starts this season.
"There are still some things mechanically and physically that he needs to work through to give him the best chance to have success in a Major League game," Roberts said.
Cingrani joins Dodgers
As one of three Dodgers acquisitions at the non-waiver Trade Deadline, Tony Cingrani was welcomed in the visitors' clubhouse at SunTrust Park on Thursday.
Cingrani was acquired from the Reds for outfielder Scott Van Slyke and Minor League catcher Hendrik Clementina. Cingrani is expected to pitch as a multi-innings reliever for the Dodgers.
"It is exciting, as they are the best team in baseball," Cingrani said. "I am here to help and we will see what happens."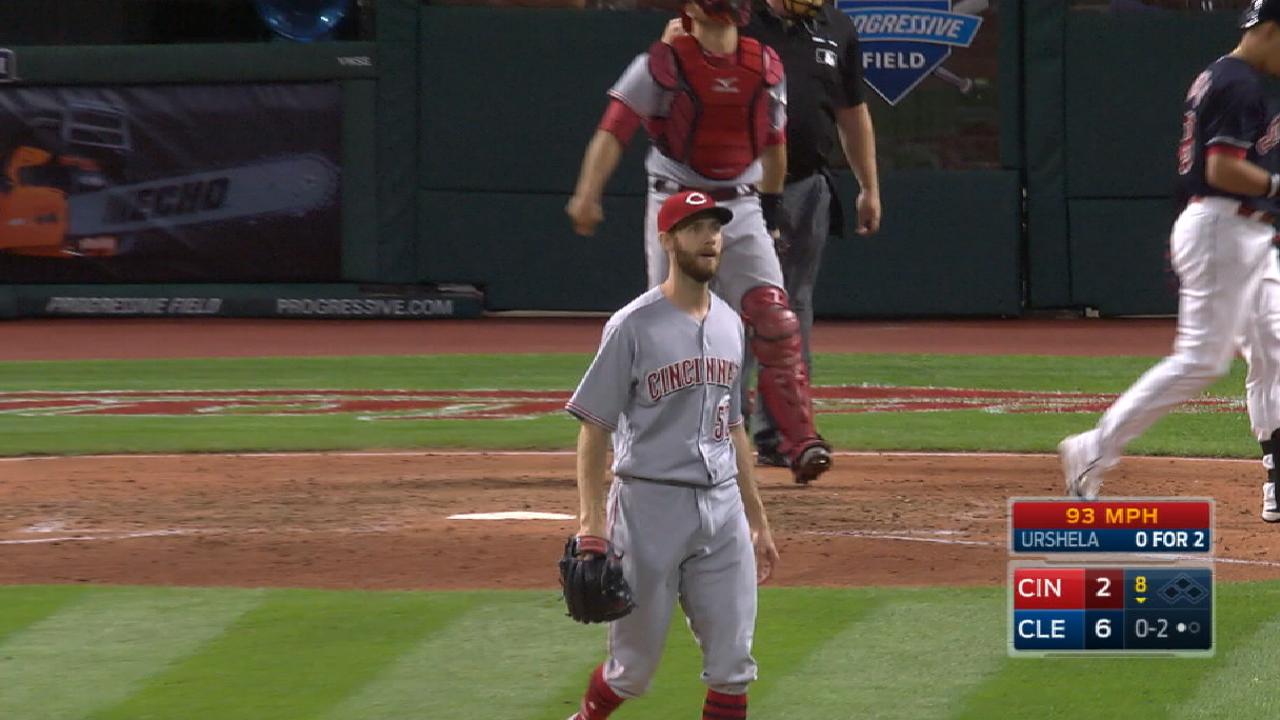 Cingrani posted a 5.40 ERA in 25 appearances for the Reds and has struggled with home runs. He allowed nine homers with Cincinnati, but he believes that he can alleviate the issue working with the Dodgers' pitching staff.
"The gist that I got was to use my slider more and use my fastball in different locations," Cingrani said.
Roberts said that Cingrani has good stuff with his fastball and slider. He believes that a couple of improved strategies can help him flourish.
"I can see him attacking and trying to get left-handers out," Roberts said. "As a former starter, he can get righties out, too. He is a one-plus [innings] guy and can get out hitters."
Jaylon Thompson is a reporter for MLB.com based in Atlanta. This story was not subject to the approval of Major League Baseball or its clubs.