Jansen, who drew loud cheers from the fans at his home ballpark, retired the side in order on just nine pitches. He opened with three straight swing-and-miss cutters — touching 96 mph on the third — to the Mets' T.J. Rivera for the first out. The next batter, Mike Aviles, took two called strikes and whiffed for Jansen's second strikeout, and the brief relief appearance ended with Angel Pagan grounding out to second.
Jansen did not return for the 10th inning; the Netherlands and the Dodgers had agreed upon a one-inning limit, regardless of pitch count. His appearance against Puerto Rico kept him on track with his spring program, as he said he was scheduled to pitch in the Dodgers' spring exhibition against Cleveland on Tuesday.
"Being competitive, I definitely want to go out there, but I got to respect the Dodgers," Jansen said. "That's my No. 1 priority. I'm theirs. I'm just trying to get ready for the 2017 season.
"I thought I would never play in the big leagues no more," Jansen joked of his spring performance. "But definitely to go out there and just throw again, it felt great. … The game was on the line, it was the perfect situation for me to get it going, and you know, it really kind of kicked [off] my season for me, got it started."
This isn't Jansen's first experience in the Classic, but Monday marked his first on the mound. He served as the primary catcher for the Dutch in the 2009 tournament and was also with the team for its 2013 semifinals run, but he did not appear in a game. Jansen credits his performance in the '09 Classic — in which he flashed the arm strength that would later serve him well from the mound — for prompting his position switch.
Jansen, who signed a five-year, $80 million deal in the offseason to stay with the Dodgers, had struggled thus far this spring, posting an 8.10 ERA through four Cactus League appearances. He had hoped that transitioning from exhibitions to the intensity and atmosphere at the Classic would elevate his play.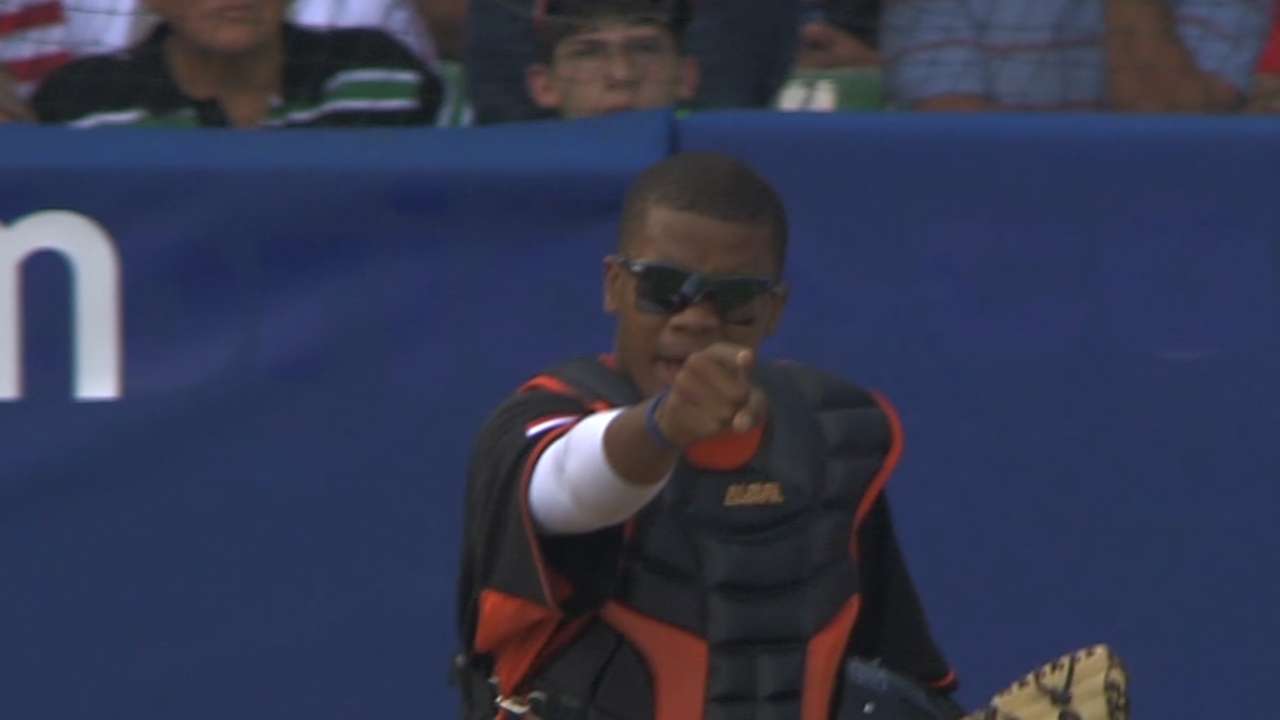 Although Jansen's time with the Netherlands was short-lived — he joined the team for its Monday morning workout, then made just nine pitches as the Dutch were eliminated in the semifinals for a second consecutive Classic — it was still a meaningful experience for the Curacao native.
"I had fun just being home, just getting out of Arizona and playing for my country," Jansen said. "I'm very proud to do that because I'm representing my mom, my dad, my brothers, my friends, family. For me, it was great to be here, and I'm thankful that I pitched today, too. It got me still going where [Dodgers pitching coach] Rick Honeycutt wanted me to be."
The World Baseball Classic runs through Wednesday. In the U.S., games air live exclusively in English on MLB Network and on an authenticated basis via MLBNetwork.com/watch, while ESPN Deportes and WatchESPN provide the exclusive Spanish-language coverage. MLB.TV Premium subscribers in the U.S. have access to watch every tournament game live on any of the streaming service's 400-plus supported devices. The tournament is being distributed internationally across all forms of television, internet, mobile and radio in territories excluding the U.S., Puerto Rico and Japan. Get tickets for the Championship Round at Dodger Stadium, while complete coverage — including schedules, video, stats and gear — is available at WorldBaseballClassic.com.
Chad Thornburg is a reporter for MLB.com. This story was not subject to the approval of Major League Baseball or its clubs.