The Dutch punched their ticket for a return trip to the Classic semifinals with a dominant 14-1 win over Cuba on Wednesday in Tokyo. They went 4-2 against the competition in Seoul, South Korea, and Tokyo, facing Korea, Chinese Taipei, Israel, Cuba and fellow finals competitor Japan.
"I've been watching the box scores, watching the replays," Jansen said. "I had no doubt these guys could come this far. They have a lot of talent, they can play really great, and here I am, to be a part of it and try to help them."
Jansen, who won the National League's Trevor Hoffman Award for his performance in 2016, opted to remain in Spring Training preparing for the season with the Dodgers for Rounds 1 and 2. He's struggled through four Cactus League appearances, posting an 8.10 ERA, but is hopeful the intensity and atmosphere of the Classic contests helps elevate his performance.
"He's one of the best closers in the game," Netherlands manager Hensley Meulens said. "He wasn't ready at the beginning of the tournament, but he's getting closer to the season now and he's ready to go. We couldn't be happier to have him with us."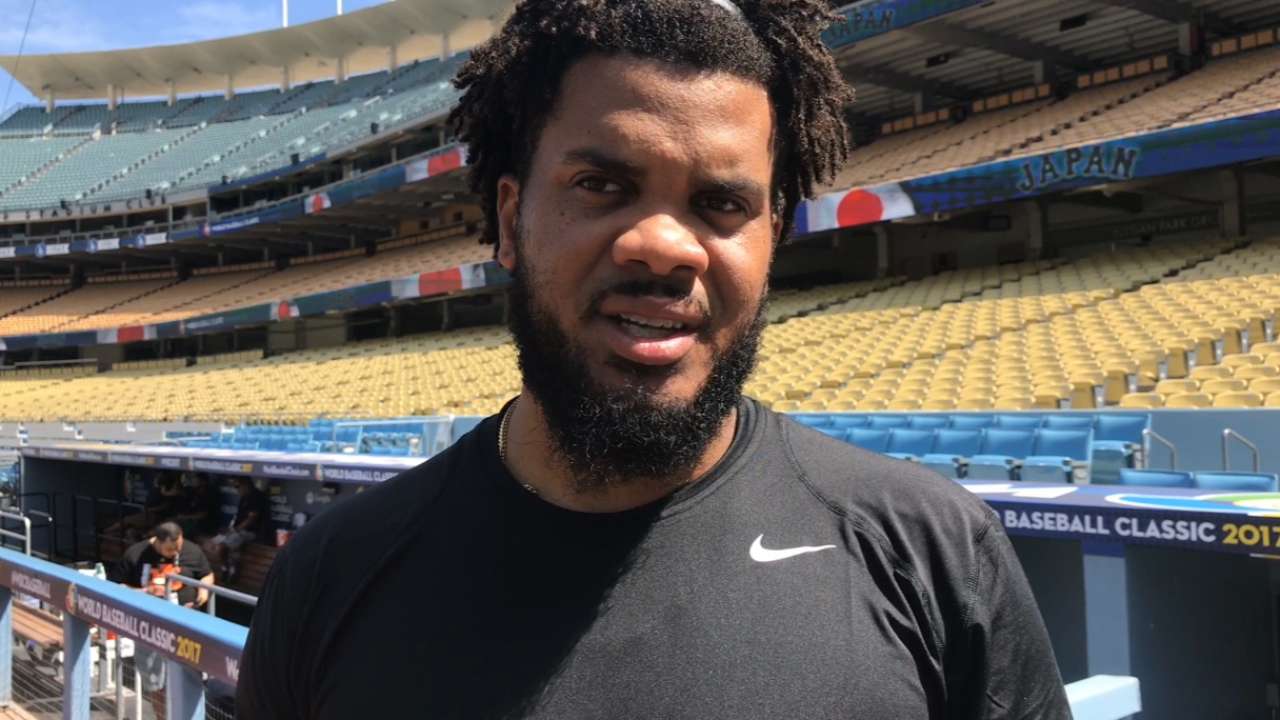 This isn't Jansen's first foray into international play. He competed for the Netherlands in two previous World Baseball Classics, first as a catcher in 2009. Then in 2013, he was added to the roster for the semifinals but did not pitch in a game.
Jansen won't only be pitching in familiar surroundings at his home ballpark, but he could also take on a familiar face on the field. Dodgers left fielder Kiké Hernandez is on the Puerto Rican roster and has appeared in four games, batting .364 (4-for-11), with a triple, one run scored and two RBIs.
"He's coming right at you, everybody knows what he's going to throw," Hernandez said of his teammate. "He might flip a slider now and then, but the entire world knows he's going to throw cutters at you, just like Mariano did. Just hang with him. He's as good as they get.
"If I do get to face him, it's going to be a fun battle and hopefully I become victorious."
The World Baseball Classic runs through Wednesday. In the U.S., games air live exclusively in English on MLB Network and on an authenticated basis via MLBNetwork.com/watch, while ESPN Deportes and WatchESPN provide the exclusive Spanish-language coverage. MLB.TV Premium subscribers in the U.S. have access to watch every tournament game live on any of the streaming service's 400-plus supported devices. The tournament is being distributed internationally across all forms of television, internet, mobile and radio in territories excluding the U.S., Puerto Rico and Japan. Get tickets for the Championship Round at Dodger Stadium, while complete coverage — including schedules, video, stats and gear — is available at WorldBaseballClassic.com.
Chad Thornburg is a reporter for MLB.com based in Los Angeles. This story was not subject to the approval of Major League Baseball or its clubs.