If Pederson or Verdugo had started their September callups on fire the way Corey Seager did two years ago, Granderson's job was there for the taking, as Seager did to shortstop Jimmy Rollins. But the sense of urgency works both ways.
Will the Dodgers prioritize best record or resting players down the stretch?
— Frederick Kranz @dodgerboy1953
Roberts was asked that question before Wednesday night's game, focusing on utilization of starting pitching for the last weekend series of the regular season in Colorado. For the non-answer, let's go to the audiotape: "That's a bigger discussion," Roberts said. "I could have a thought, but it should be an organizational decision. If we get to that decision, we're going to debate it and try to figure out what's best for the Dodgers. I can't say, it's so close, it really is. It would be cause for debate, because you can argue both ways. That's a fun discussion."
This past offseason, who were the Twins reportedly wanting in return for Brian Dozier? 
— Mark Jent @MarkHJent
The Dodgers were dangling pitching prospect Jose De Leon when it came down to a choice between Logan Forsythe and Dozier, and they obtained Forsythe in a straight-up one-for-one deal with the Rays. The Twins weren't any more convinced of De Leon's potential than the Dodgers showed in their willingness to trade him, and Minnesota wanted more in return for a player as talented as Dozier.
The Twins were rumored to have asked for Cody Bellinger (knowing that he was untouchable), but they also showed interest in pitcher Brock Stewart. The Dodgers — having dealt pitching prospects Jharel Cotton, Grant Holmes and Frankie Montas four months earlier to Oakland for Rich Hill and Josh Reddick — held on to Stewart and took the one-for-one deal with Tampa Bay.
Meanwhile, De Leon missed the first month of this season with forearm flexor soreness after pitching for Puerto Rico in the World Baseball Classic. He has pitched only 41 innings this year and none since early August.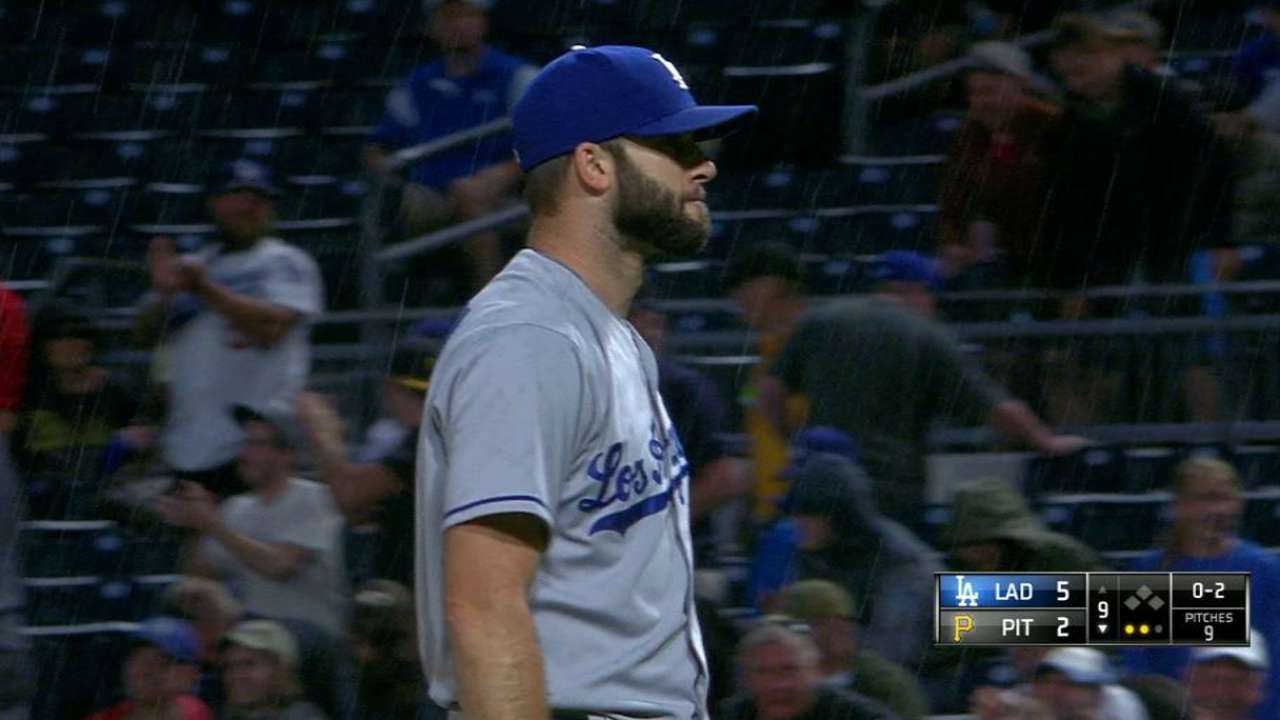 Any chance Brandon Morrow gets the eighth-inning spot because of Pedro Baez's struggles?
— Bruno Coelho Marques @BrunoCoelhoM
One would think so, judging from recent form. That said, the Dodgers' management doesn't share the negative opinion of most fans regarding Baez and his ability. Baez never warmed up Wednesday night, when Morrow pitched a scoreless eighth inning against the Giants, and it was telling that the ninth inning went to rookie Walker Buehler, who seems to have had an October roster spot assigned off his first Spring Training bullpen session.
Morrow has never pitched in the postseason. Baez has in each of the past three Octobers, but he has allowed two home runs in 9 2/3 innings with a 6.52 ERA. Last year Baez held the Nationals hitless in four appearances, but he had a pair of rough outings against the Cubs, including one where his error led to a five-run inning.
Should the Dodgers advance to the World Series, what are the possibilities that Vin Scully is invited by the team to help call World Series games?
— Wongdk@sbcglobal.net
That would be icing on the cake for Dodgers fans, but Scully ruled it out when speaking to the Los Angeles Times last month saying, "… no, I'm done," and he means it. Even when Scully was still active, he turned down repeated requests to join national broadcasts of postseason games because, in his words, he didn't want "to get in the way" of the regular broadcast team.
Ken Gurnick has covered the Dodgers since 1989, and for MLB.com since 2001. This story was not subject to the approval of Major League Baseball or its clubs.