"You could see the exhale when he got to first base and the boyish smile," manager Dave Roberts said of Pederson. "He's a big part of what we're trying to do. For him to get that big hit, obviously, it was a big lift for all of us."
Pederson said working with organizational hitting instructor Shawn Wooten the previous two days had a lot to do with his clutch hit, which followed strikeouts in his first two at-bats against Greinke.
"It was really nice. First hit in a long time," said Pederson. "To have it come up big and help the team win a ballgame is a nice feeling. What's really big is to get away from the results and sticking to the process. Wooten's here and I was able to come to the field the past two days and work on a consistent routine no matter what the results are. I have a bad habit of changing stuff and getting away from the process and chasing hits, and it's not a line for success."
Puig followed and continued to deliver, taking a Greinke slider the other way to bring home Pederson, and Puig celebrated all the way down to first base.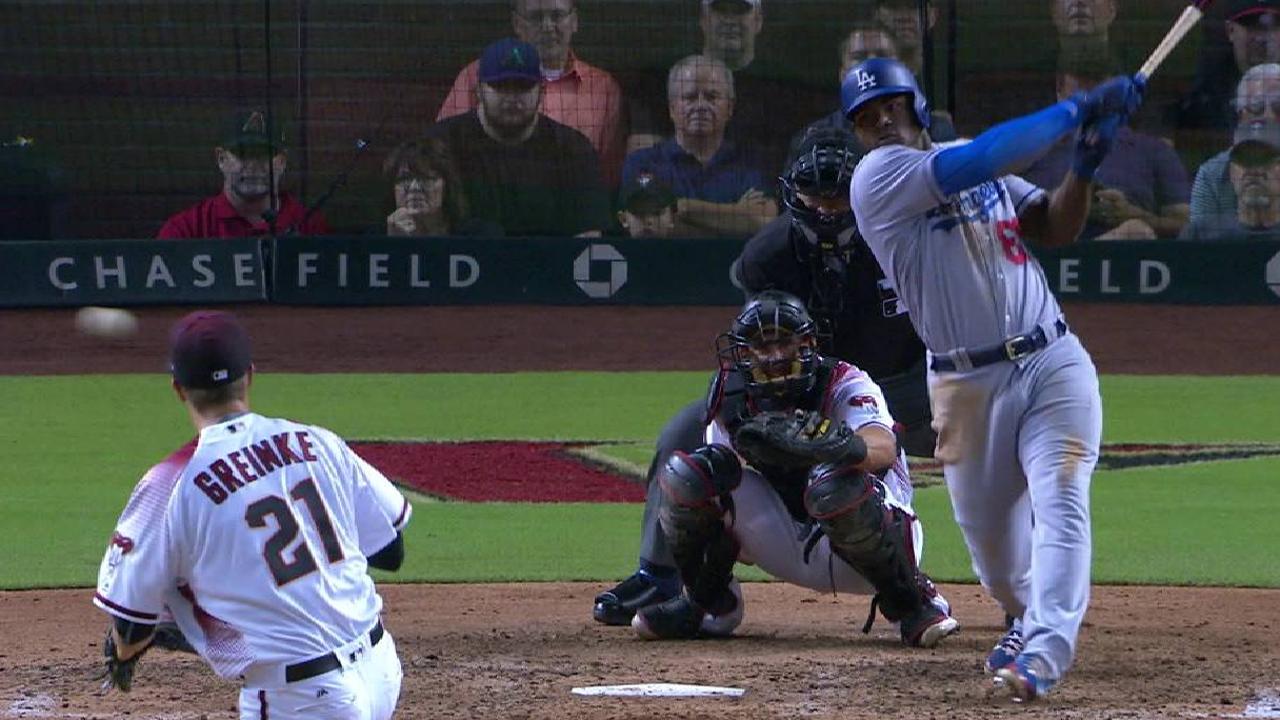 "He was pitching a lot of sliders, I was thinking to wait," said Puig. "I was thinking of going opposite field. They went heavy to the pull side, so I waited to swing and that obligated me to going to the opposite field. I don't have that many opportunities to push runs in to win the game. Usually the animal [Cody] Bellinger and C.T. [Chris Taylor] have been doing that. I'm happy to have the opportunity tonight."
The win left the Dodgers 16 games in front of Arizona, which is in a duel with Colorado for Wild Card berths while the Dodgers are almost assured of winning the division. That could set up an interesting first-round divisional clash in the postseason, as the Dodgers lead the season series with Arizona, 7-5, with four of the last five games decided by one run.
"They're tough, they can pitch," Roberts said of the D-backs. "They grind at-bats, run the bases and catch the ball. It's fun to play those guys. We're familiar, they're familiar."
Starter Alex Wood said it's still too early to get caught up in potential postseason matchups.
"Not really, not at this point," he said. "We know we have a good chance to see the D-backs or Colorado, if everything stays the same. We're not thinking too much about that. One goal at a time, win the division, get ready for the postseason and go from there."
Ken Gurnick has covered the Dodgers since 1989, and for MLB.com since 2001. This story was not subject to the approval of Major League Baseball or its clubs.